Connector for Microsoft Outlook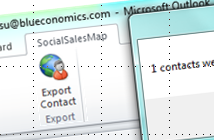 Most salespeople manage their contacts in Outlook. By using the SocialSalesMap Connector for Microsoft Outlook, you can now export your existing contacts from Outlook to the SocialSalesMap with one click.
- Press the "export contact" button at the "SocialSalesMap" menu item
- or right-click on selected contact(s) and press "export contact(s) to SocialSalesMap"
Re-using your existing contact information has never been easier.
Downloads
The connector is available for download free-of-charge, sponsored by Blueconomics. It has been optimized for Microsoft Outlook 2010.
Installation Instructions